Intro
CyberCool Free Cooling Booster

Free Cooling for water-cooled chillers

Systems with water-cooled chillers do not usually offer Free Cooling, even if the low outdoor temperatures at the installation site would allow it. However, since Free Cooling – as well as a precise Mixed mode concept – offer the greatest potential savings, STULZ has developed a standard unit that benefits from low outdoor temperatures and thus ensures efficient operation all year round.
Solutions for the CyberCool Free Cooling Booster
Free Cooling

Plug & Play

Retrofit

Data Center

Industry
Benefits
Benefits
Significant energy savings thanks to Free Cooling including Mixed mode

Low commissioning times and installation costs thanks to plug-and-play principle

High reliability thanks to redundancy concept and precise thermodynamic design

Retrofitting without complex and time-consuming planning
Features
Features
With or without glycol in the consumer circuit

Maintenance-friendly design

Energy-saving, variable speed pumps

Both indoor and outdoor installation possible

Trained and experienced sales and service partners in over 140 countries
Technical Data
Cooling capacity total (kW)

270 – 1.800

Flow rate (m³/h)

59.4 – 260.9

Sizes

5

Dimensions (mm)

Height: 2,126 – 2,467
Width: 1,909 – 2,360
Depth: 1,404 – 4,279

Weight (kg)

1,140 – 4,655
Free Cooling with Mixed mode

Savings up to 210,000 € a year with CyberCool Free Cooling Booster
| | With Free Cooling | Without Free Cooling |
| --- | --- | --- |
| Energy consumption | 1,643,576 kWh | 3,043,586 kWh |
| Energy costs | 246,536 € | 456,538 € |
| Savings per year | 210,001 € | |

Energy consumption using the example of a system with TSI1400 chiller, WFM05 CyberCool Free Cooling Booster and EHLD1F 1297 A dry coolers; operating temperature:18/12 °C; based on the temperature profile of the city of Hamburg, 0.15 €/kWh
Quick and easy installation
CyberCool Free Cooling Booster is a high-performance solution designed for plug-and-play installations, making it suitable for any location.
The standard unit is a pre-installed system that contains all important hydraulic components, so that installers don't need to take any construction measures to integrate Free Cooling. Due to the unit design, the Free Cooling modules can be installed quickly and easily, which reduces commissioning times and installation costs significantly.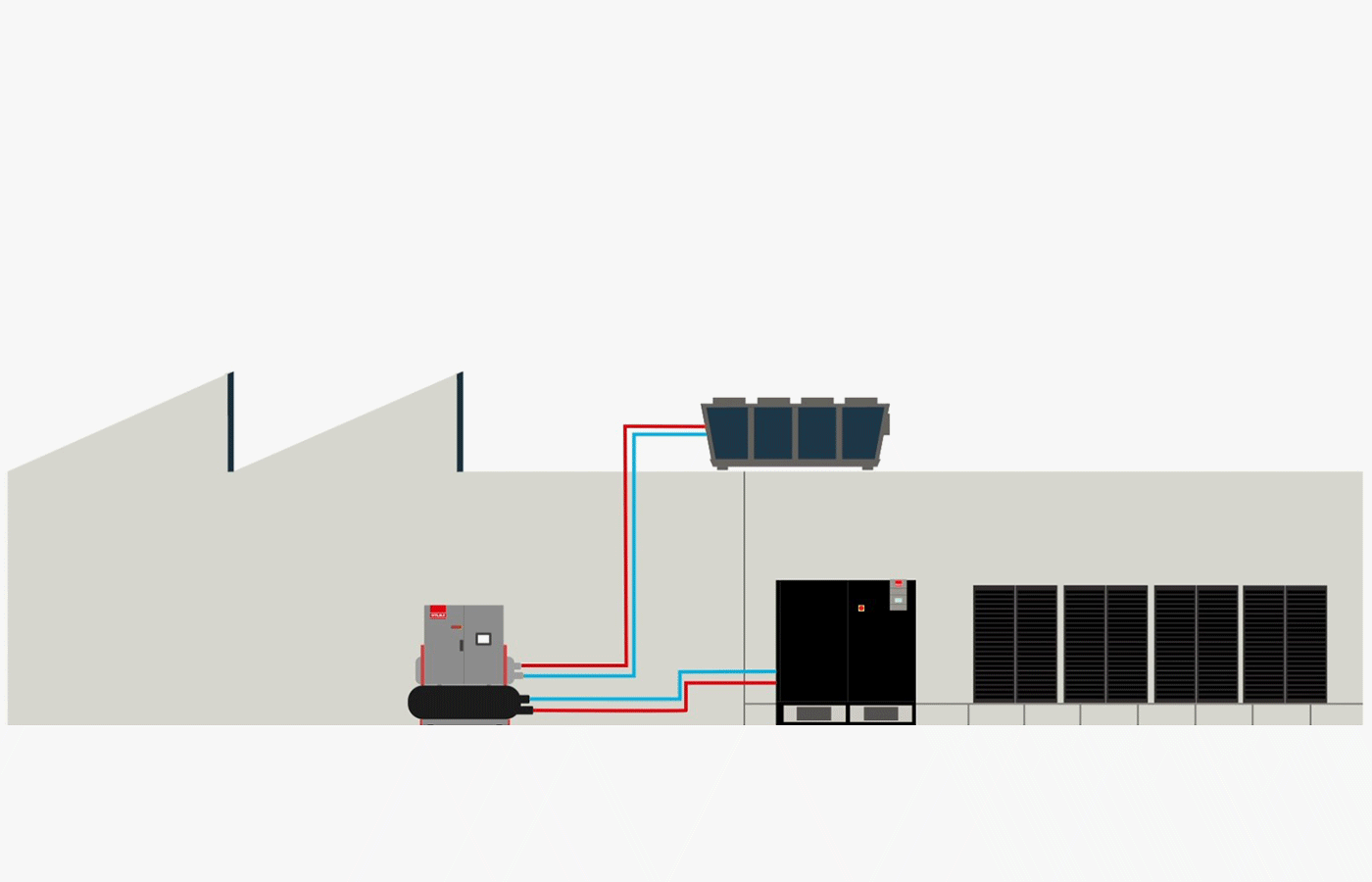 With or without glycol
CyberCool Free Cooling Booster features a built-in intermediate heat exchanger, which isolates the user from the dry cooler circuit, ensuring safe operation in case of leakages.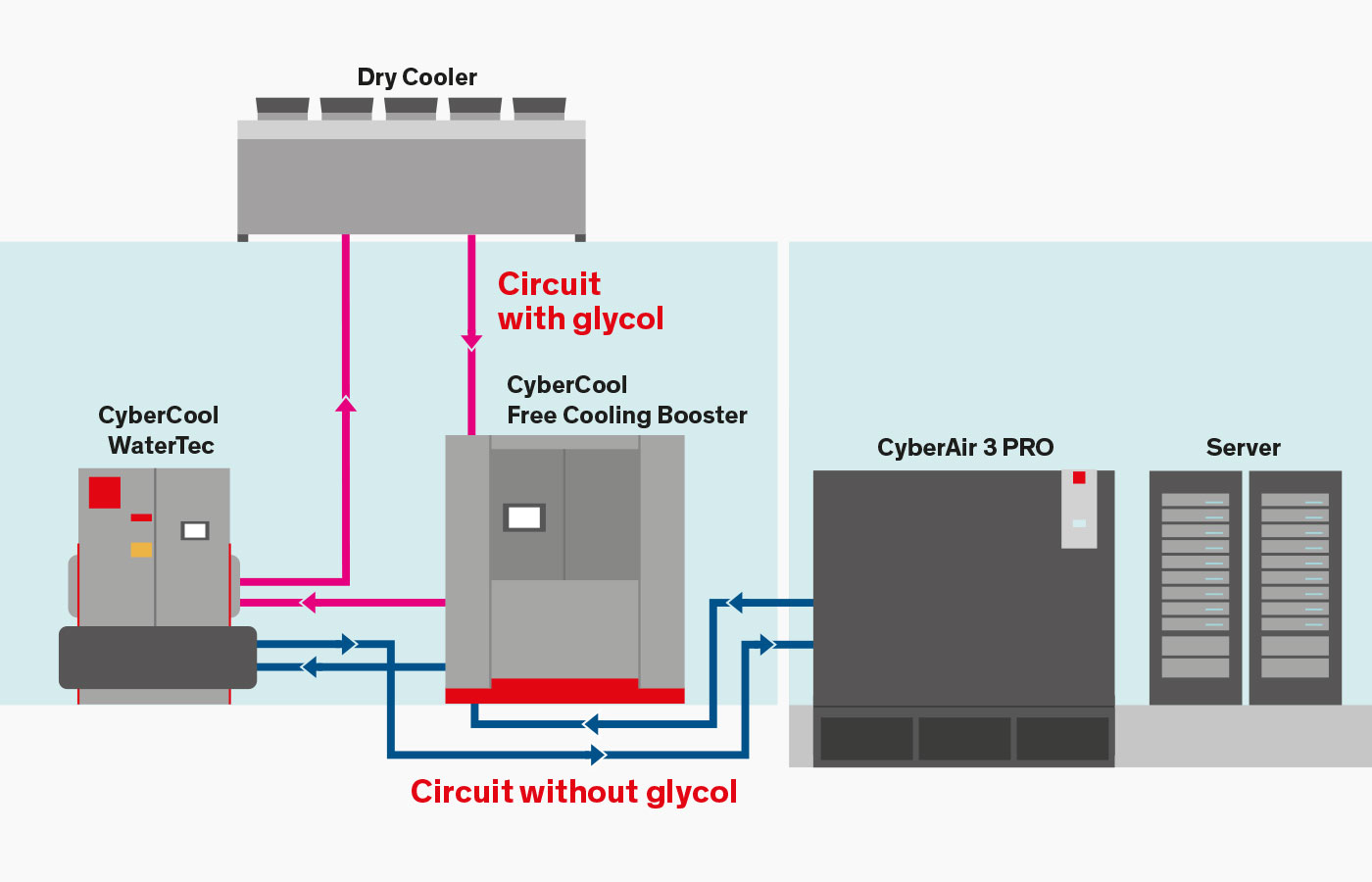 Controller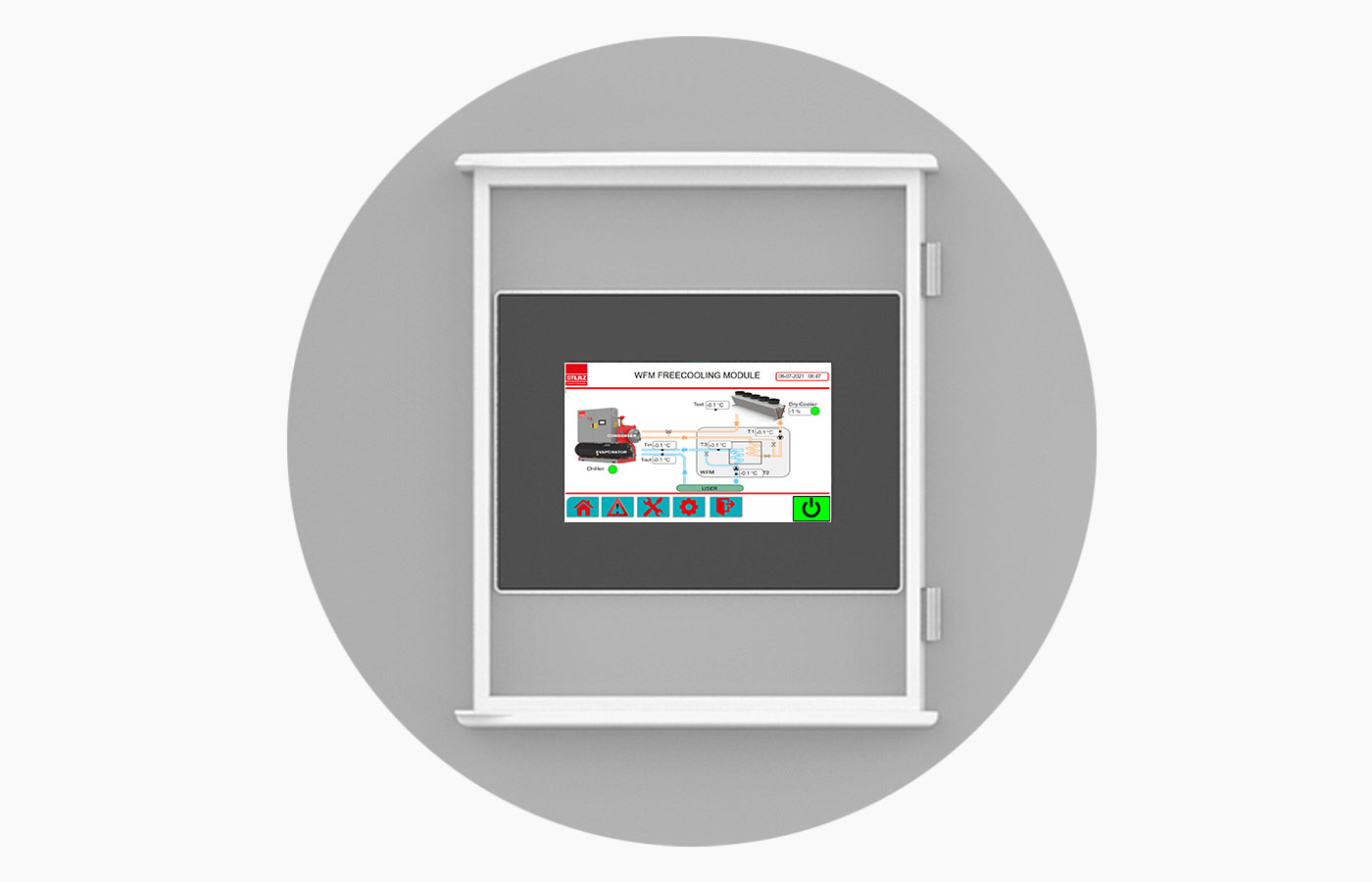 Thanks to its own switch cabinet including SEC.blue controller, optimum control and perfect communication with chillers and dry coolers are ensured. SEC.blue monitors both the outdoor and the operating temperature and regulates the cooling capacity of the dry cooler. Optimum control of the condensing temperature and maximum amount of Free Cooling hours are ensured even at high outdoor temperatures. This results in minimal operating costs and a low CO2 footprint.
SEC.blue features
Intuitive user interface via 7" touch screen
Ethernet port RJ32
RS485 ModBus
Alarm management
Alarm history display
Options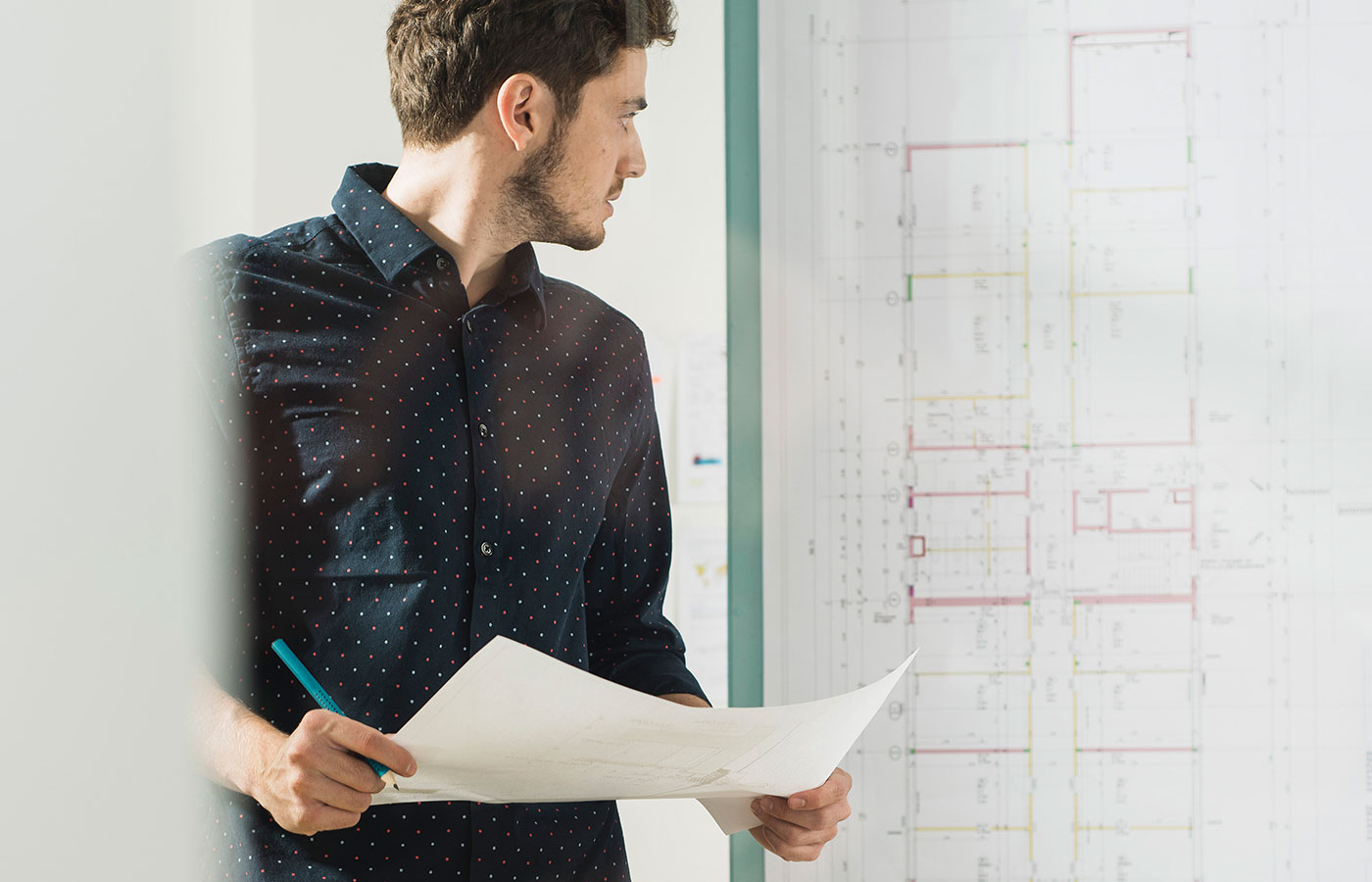 The variety of options and possible equipment enables you to perfectly adapt STULZ units to your requirements.
1 or 2 variable speed centrifugal pumps – user side
Panelled version Epoxy coated RAL7035 for outdoor installation
Energy meter
Remote dry cooler with EC fans
Flowmeters
Antifreeze heater
Electrical panel heater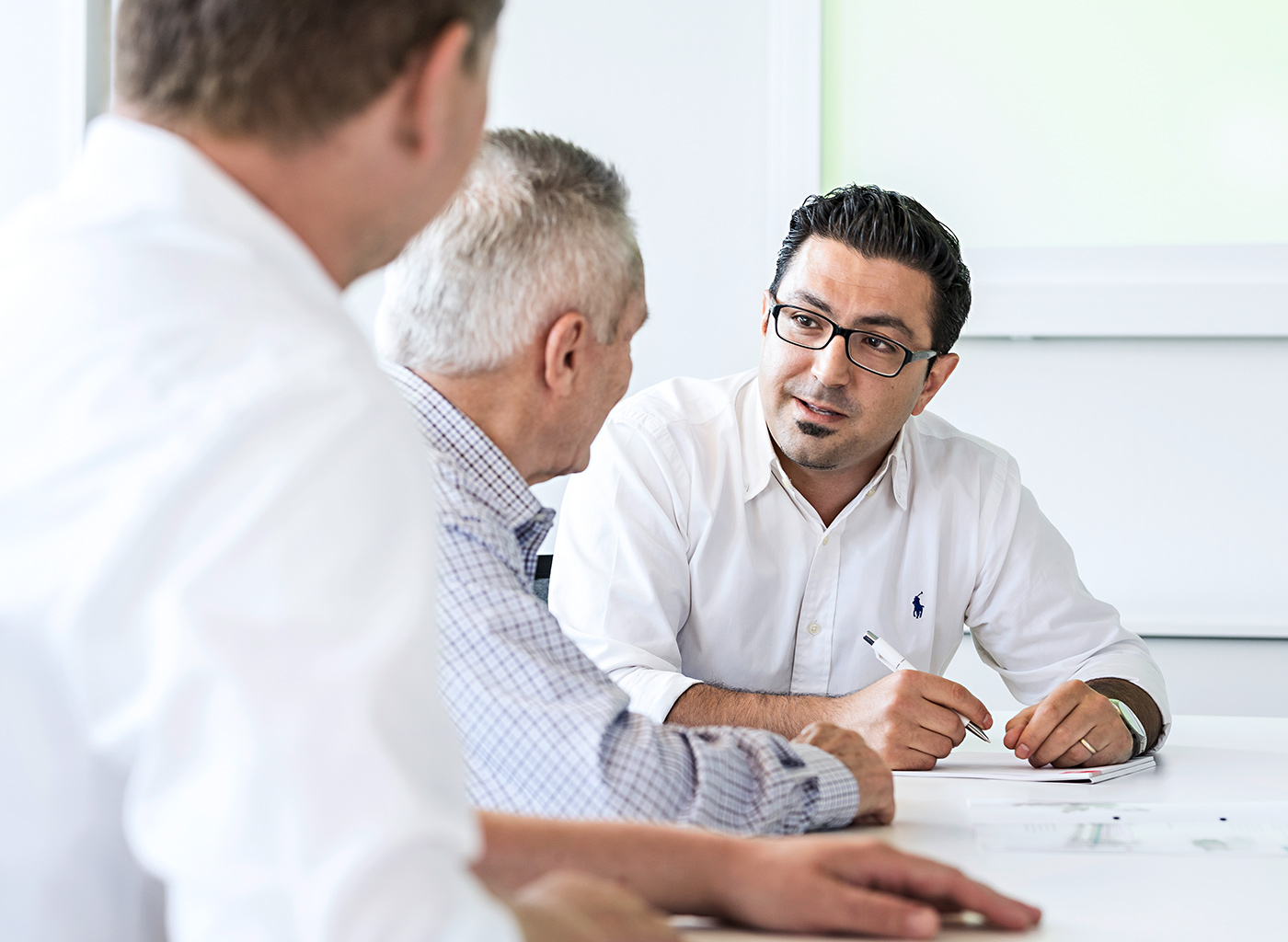 From standard units to fully customized solutions
The ability to offer such a wide range to customers is the embodiment of our philosophy, "Climate. Customized.". Size, design, air conduction, system or control: CyberCool Free Cooling Booster is a model of adaptability and the units can be precisely adapted to your individual requirements. In addition, a variety of options and equipment versions are available to achieve the optimum result.
Learn more about Climate. Customized.
Downloads